Quality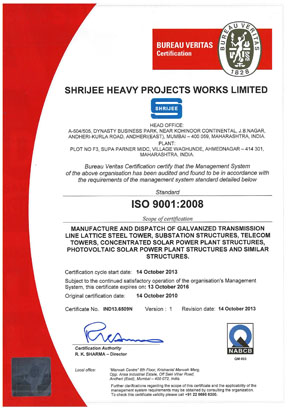 Since inception we have been extremely quality conscious and this has earned us the trust of our customers. Time and again our customers have trusted us when they needed high-quality galvanizing for their exports jobs, third-party inspections or for critical applications.
Shrijee was selected by the world's leader in concentrated solar power, Abengoa, to manufacture all the structures for their first project in India. Unlike solar photovoltaic, concentrated solar power is an optical technology. The structures have to track the sun with extremely tight tolerances. Shrijee was able to successfully execute this project relying on indigenously developed jigs and fixtures. The tolerances on some of the parts were as tight as +/- 1 mm and +/- 0.01⁰.
It takes skill and experience to achieve these results. Our supervisors and contractors have been trained to achieve high quality results. Furthermore, our independent quality department monitors quality tightly. Often our customers waive their right to inspect before dispatch because of the confidence they have in Shrijee's in-house quality team.
Some of the features of our quality are:
Fully equipped test lab for mechanical testing (universal testing machine) & chemical analysis
Independent quality manager reports directly to Mumbai office
Separate customer satisfaction cell
ISO 9001:2008 certified
We follow the relevant IS, ASTM, BS, BSEN standards for raw material & process inspection. For example:
IS: 800 : 1984- Code of practice for general construction in steel (Second Revision)
IS: 2062 : 2006- Hot rolled Low, Medium and high tensile structural steel specifications (Sixth Revision). (Also, equivalent grades of steel as per various International standards may be procured within this standard)
IS 1730:1989- Steel plates, sheets, strips and flats for structural & general engineering purposes-Dimensions
IS: 4759 : 1996 & ISO 1460- Hot Dip Zinc coatings specifications for structural steel and other allied products
IS: 2629 : 1985- Recommended practice for hot dip galvanizing of iron and steel