Experience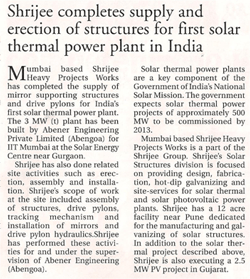 Towers and sub-station structures
We have been regularly supplying hot-dip galvanized towers and substation structures to well-known EPC contractors for power transmission and distribution projects all over India.
We have also supplied transmission line towers and sub-station structures to countries such as Ghana, Zambia, Kenya, Zimbabwe, Mali, Côte d'Ivoire (Ivory Coast) and Congo in Africa and to Laos and Thailand in South-East Asia.
Solar Mounting Structures
We have supplied various types of solar PV mounting structures such as fixed-tilt structures, manual seasonal tilt structures, single axis and dual axis trackers. Shrijee has worked on MW as well as kilo-watt scale projects. We have the experience of working on various roof-top PV plants. Our optimized structure designs are safe and cost-effective.
We manufacture various types of CSP solar structures based on different designs and technologies. Shrijee is the first company in India to supply structures for a concentrated solar power plant.
We have successfully supplied CSP Solar mounting structures which include cantilever arms, cantilever arm glass brackets, torque box frames, drive pylons, shared pylons and HCE support brackets. In addition to supplying structures, we have also done the mechanical assembly and installation of the structures at the solar site. The installation of reflector mirrors and drive hydraulics was also completed by us.
We have supplied more than 60 MWs of galvanized solar mounting structures to various PV and CSP projects all over India, as well as to the Middle-East and North America.