Indian Government Support



India is a net energy importer of fossil fuels with +45% of its energy needs met through import in 2018. Of the fossil fuel basket, India imports about 25 million tons of natural gas (in liquified form) annually and it sees biogas (or biomethane) as a viable alternative to reduce its import dependence.
To improve self-reliance, the government of India announced the SATAT scheme which targets to facilitate setting up of 5000 Compressed Biogas (CBG) plants by 2023 to generate 15 million MT of CBG annually. To incentivize investment in Biogas plants, the SATAT scheme offers:
A long-term purchase contract (10 years) for CBG by national Oil Marketing Companies
Price linked to market retail price (~75% of Retail Selling Price) with lower cap of Rs. 54
Capital subsidy (reimbursement) of Rs. 4-10 crores per project
Priority lending: SBI provides 70% finance for period of 12 years
The SATAT scheme offers a guaranteed market to all biogas produced by companies that have entered into a supply contract with oil companies at attractive price linked to the retail price of CNG. Based on this supply contract, the nationalized Banks are encouraged to offer loans of prioritized terms including reasonable interest rate, longer payback period and up to 70% financing of total project cost (excluding subsidies).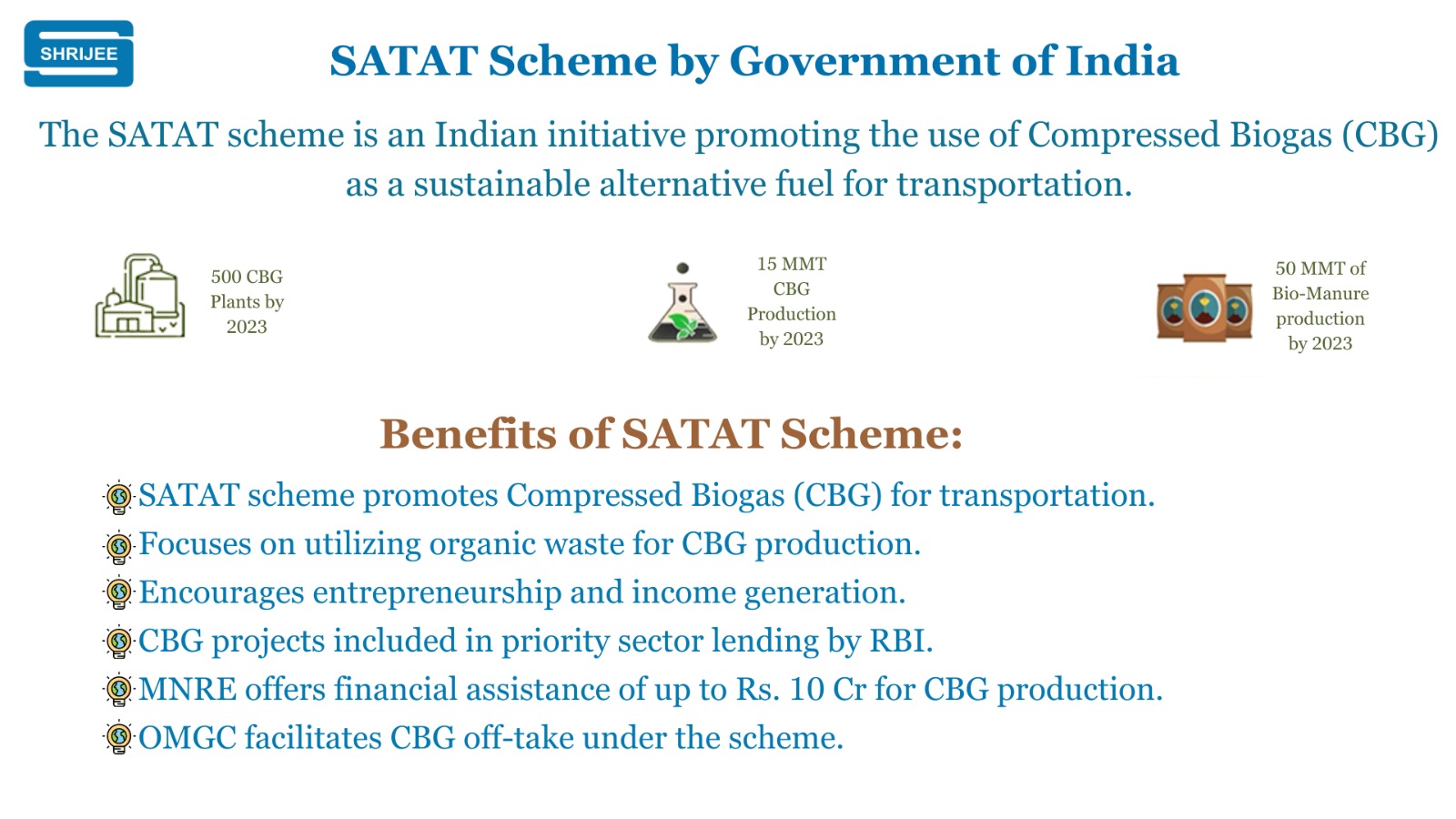 On November 7, 2022, the Indian government announced that it will continue its Bioenergy Programme until 2025-26. The Union Ministry of New & Renewable Energy committed a budget outlay of Rs 858 crore, which has been earmarked for the first phase of the programme. It will support the use of huge surplus biomass, cattle excrement and industrial and urban biowaste available for energy recovery.

The National Bioenergy Programme will include the Waste to Energy Programme (Programme on Energy from Urban, Industrial and Agricultural Wastes/Residues). It will support the setting up of large Biogas, BioCNG and Power plants (excluding MSW (municipal solid waste) to power projects).
Statement by Shri R.K Singh, Union Minister for Power and New and Renewable Energy in Lok Sabha on establishment of Bio-CNG Plants